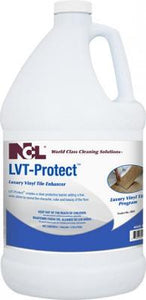 NCL LVT-PROTECT- Luxury Vinyl Tile Enhancer
Features:
Wear Layer

 

/ Protects floor surface from traffic and spills.
Low, satin shine

 

/ Reveals the true character, color and beauty of the original surface.
Water resistant coating

 

/ Improves the cleaning ability on the surface
New LVT

 

/ To protect and enhance original beauty and look.
Worn LVT

 

/ To restore and revitalize the look.
Versatile

 

/ For use with linoleum, no-wax floors, synthetic floors.