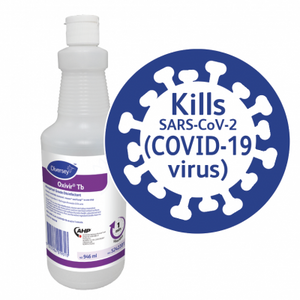 OXIVIR® TB
Kills SARS-CoV-2 (COVID-19 virus) in 1 minute.
Features: 
Hospital Grade Disinfectant Cleaner

Formulated with Accelerated Hydrogen Peroxide technology to deliver fast-acting, broad spectrum disinfection with enhanced cleaning power
Viricidal, Bactericidal, Fungicidal, Tuberculocidal
Effective against 27 micro-organisms including MRSA, VRE, spores and spore-forming pathogens including Clostridium difficile (C-Diff), Clostridium sporogenes and Bacillus subtilis.
Kills viruses such as Norovirus, H1N1, Human Coronavirus 229E, Influenza A and Hepatitis C in 1 minute
Non-irritant, non-corrosive, non-bleaching, non-rinsing AHP formula
Active ingredient, Hydrogen peroxide bio-degrades into oxygen and water

One-Step 

Technology to deliver fast, effective disinfection and cleaning performance.

All in a simply ready to use liquid!
Applications:
Sanitizes soft surfaces such as carpets, cushions and curtains in 30 seconds
Hard Surfaces