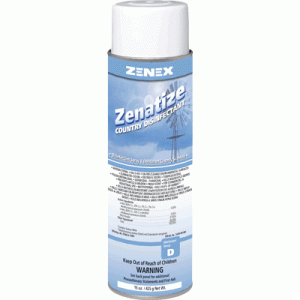 Zenex Zenatize- Country Disinfectant
Features: 
Ready to use, broad-spectrum, anti-microbial agent. 

One step disinfecting/deodorizing spray.

Prevents mold, mildew, and bacteria on environmental surfaces. Disinfects and deodorizes surfaces through effective bacterial and fungicidal activity.

Kills 99.9% of Germs.

Tuberculocidal, Pseudomonacidal, and Germicidal-Fungicidal.

Kills household germs.

Antibacterial.

Chemically attacks and neutralizes odor producing materials.

Dual-deodorizing action. Controls mildew and fungi.
Kills HIV, Staphylococcus aureus (Staph), Streptococcus hemolyticus (Strep), Pseudomonas aeruginosa, Mycrobacterium bovis (BCG), Salmonella choleraesuis and Trichophyton mentagrophytes (athlete's foot fungus) on hard, non-porous environmental surfaces.