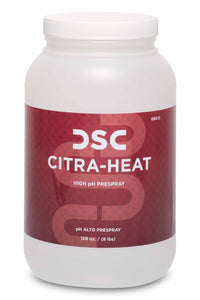 DSC Citra-Heat 8lb: Concentrated, High pH All-Purpose Prespray
Features:
Powers through the nastiest, grungiest, dirtiest possible filth.

Concentrated prespray specifically designed for greasy protein stains, body oils, food residue, milk, grass stains, blood stains and filth.

High pH formula contains a combination of detergents, emulsifiers, brighteners and a very pleasant citrus fragrance.