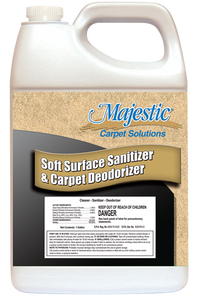 Majestic Soft Surface Sanitizer & Carpet Deodorizer
Features: 
Sanitizes soft surfaces in 5 minutes. This product meets EPA's criteria for use against SARS-CoV-2, the virus that causes COVID-19
Deodorizes by killing microorganisms that cause offensive odor
Leaves a clean fresh scent
Cost effective concentrate for use on soft surfaces.
Remove odors caused by flooding and smoke from fires
Effective at eliminating odors on porous surfaces such as upholstery, drapes, carpets, bedding, shower curtains, mattresses and non-porous surfaces such as walls and floors
Excellent for fire restoration.
Great for:  Health Care Facilities, Nursing homes, Day care centers, Nurseries, Business and office buildings, Hotels, Motels, Schools, Airports.
Use this product on: washable hard, nonporous surfaces of: Soft surfaces, Upholstery, Fabric, upholstered Couches, Sofas Chairs, seat cushions, upholstered cushions, pillows, upholstered furniture, fabric Window treatments, Curtains, Draperies,, fabric car seats.