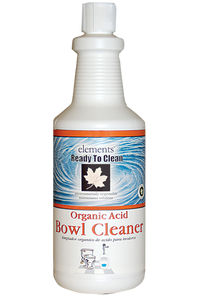 MPC Organic Acid Bowl Cleaner
Features: 
Ready to clean organic acid bowl cleaner that uses a patented organic acid that is more effective than phosphoric acid when removing limestone, hard water deposit, rust, soap scum and urinary salts from hard surfaces.

Can be used to clean and deodorize washbasins, bathtubs, shower stalls, drinking fountains, toilet bowls, urinals, and sinks.

Its clinging formula controls run-off for effective usage.

Contains no phosphates, very low VOC's and is non-fuming and non-corrosive to the skin and mild steel. 

12 qts/case.