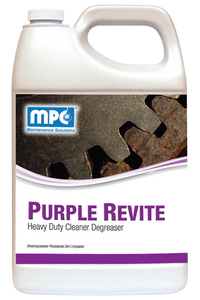 MPC Purple Revite- Heavy Duty Cleaner Degreaser
Features: 
A concentrated heavy duty cleaner degreaser for use on medium to heavy industrial soils.

Formulated to quickly and effectively remove grease, oil, carbon, or any other industrial soil from concrete, machinery, engines, floors, walls, etc.

Low foaming for use in automatic scrubbers. Phosphate free formula.

Nonflammable and non-corrosive.