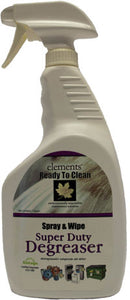 MPC Super Duty Degreaser
Features:
Formulated using Micro Emulsion Technology

Biodegradable

Ready to use super duty 

"green chemistry"

 based cleaner-degreaser that dissolves oil and protein based soil better than conventional butyl-based products

Non-flammable, non-toxic and contains no solvents

Formulated with a sunshine pleasant fragrance.

Recommended for use on f

ood processing equipment and food service areas.

May also be used on walls, desks, tables and other hard surfaces
Elements Super Duty Degreaser is an environmentally
Responsible Cleaning Solution!
Environmental Standards: 
· Low Toxicity
· Contains No Phosphates, EDTA or NTA
· Non-Corrosive
· Non-Combustible
· Contains No Ozone Depleting Compounds
· Contains No Known Carcinogens
· Contains No Chlorine Bleach
· Contains No Butoxyethanol
· Contains No Petroleum Distillates
· Concentrated for Use in Cold Water
· Safe VOC Level when Diluted
· General Purpose Cleaners are Biodegradable