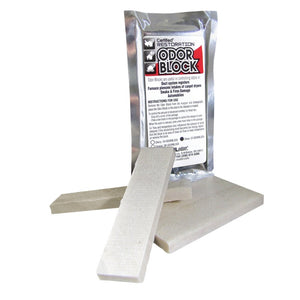 Nilodor Odor Block
Features: 

Odor block is a simple and convenient natural wick odor counteractant.
Odor block will quickly suppress odors in virtually any location.
This deodorizer will dispense more rapidly as temperature rises or when air flow increases across the surface of the block.
The odor block's media holds more than three times its weight in active ingredients for long lasting deodorization.
Duration and intensity of deodorization is controlled by varying odor block's exposure to the air.
Open the package and place in furnace plenum, duct system register, on intake of carpet dryer, etc.
Odor block is a superb closet or car freshener.
Odor blocks are useful for controlling odors in:
Automobiles,
Duct system registers,
Furnace plenums,
Intakes of carpet dryers,
Small rooms and closets,
Fires Damage,
Smoke odors,
Cooking