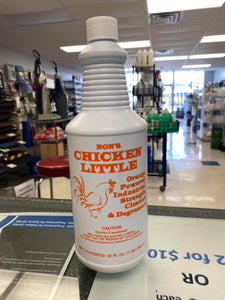 Ron's Chicken Little- Orange Powered Industrial Strength Cleaner\Degreaser
Exclusively sold at Advanced Cleaning Solutions.
Features: 
All natural citrus powered industrial strength cleaner & degreaser

Unique and extremely versatile

Can be used in concentrated form or in a wife range of dilutions (from 1 ounce per gallon up to 32 ounces per gallon)

Removed dirt, grease, oil, grime, soap scum, floor finish, crayon, black heel marks, smoke film, greasy food soil, ink, make up stains and so much more.

Can be applied to surfaces by spraying, mopping, brushing, pressure, cleaning, foaming dip tank, ultrasonic cleaner or any other convenient method

Recommended for use on most washable surfaces such as countertops, walls, floors, vinyl, fiberglass, woodwork, white-wall tires, equipment, machinery, tools and more.