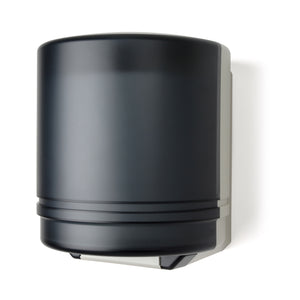 Self-Adjusting Centerpull Towel Dispenser
Holds any universal center pull towels up to 9" tall and 9" in diameter. 
Features: 
Patented dispensing aperture that self-adjusts, preventing wear.
Heavy duty double latch lock helps prevent theft
Permanent key knob option (Part #SP01010-00)
Reliable single-sheet dispensing to reduce waste
Durable, impact resistant plastic cover
Translucent cover makes it easy to detect a low paper supply.