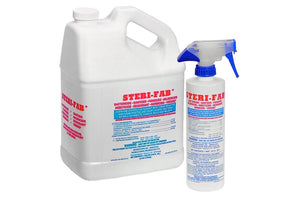 Steri-Fab- Disinfectant\ Insecticide
Features: 
Nonresidual spray that deodorizes as it disinfects.

It is the only EPA-registered virucide, disinfectant and insecticide 

in one product.

Disinfects viruses and bacteria, and eradicates pathogenic odors.






Sterifab is an antimicrobial agent that will kill many microorganisms on contact. Unlike antibiotics, which are designed to destroy microorganisms within the body, Sterifab works by destroying the microbes at the cellular level or hindering their basic metabolic functions.
BACTERICIDE - Destroys micro-organisms

FUNGICIDE - Kills Fungus

SANITIZER - Reduces levels of micro-organisms from inanimate environments

VIRICIDE - Kills Viruses

MILDEWCIDE - Kills mold and mildew​

GERMICIDE - Kills germs and disinfects

DEODORANT - Destroys pathogenic odors

BACTERIOSTATIC - Inhibits bacterial growth

FUNGISTATIC - Inhibits fungal growth
Sterifab as an 

INSECTICIDE
Professionals and individuals around the country use Sterifab to kill bed bugs, get rid of ticks, mites, lice and more. It is a powerful and very potent agent for eliminating and eradicate insects.
​ Use to get rid of: 
Lice

Centipedes

Sowbugs

Ants

Silverfish

Roaches

Firebrats