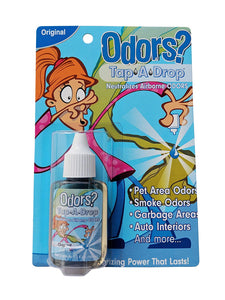 Nilodor- Tap A Drop
Features: 
One drop of this Odor Remover per 1000 cubic feet (10ft x 10ft ) will neutralize

bad odors for up to 24 hours

Used in Litter boxes, pet cages, vet clinics, bathrooms, garbage cans, garbage disposals, automobiles, etc.
Containing 100-percent active original nilodor concentrate
1/2 oz. bottle will give you up to 400 applications
Eliminate unpleasant pet and household odors instantly
Leaves a pleasant low-level fragrance.
When to Use Nilodor Original Air Freshener?
Litter boxes
Pet bedding
Pet cages
Vet clinics
Bathrooms
Waste baskets
Bed pans
 Cancer rooms
Sick rooms
Diaper pail,
Smoke odors,
Shoes,
Basements,