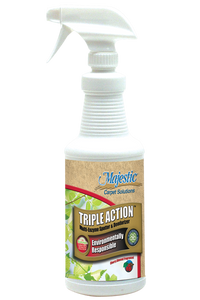 MPC Triple Action- Carpet Spotter and Deodorizer
Features: 
Ready-to-use, multi-enzyme carpet spotter & deodorizer.
Designed to remove stains and odors.
Utilizes broad-spectrum odor counteractant that chemically neutralizes the malodor while bacteria work to eliminate the stains.
Complete solution for carpet spotting.
Can be used as a carpet spot remover, deodorizer, as well as pre-treatment. Use on all types of soils and stains.
Contains Advanced Gemini Surfactant Technology for better cleaning.
This Carpet & Rug Institute tested and certified cleaner effectively removes soil without any damage to the carpet.
The CRI Seal of Approval is awarded to carpet cleaning products that pass stringent tests administered by an independent, accredited institute.