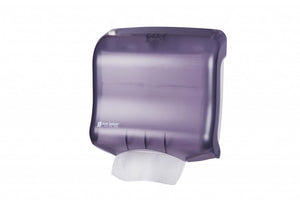 Ultrafold™ Multifold/C-Fold Towel Dispenser
Features: 

Designed to eliminate overstuffing of towels and prevent bunching and clumping
Offers clean, low-profile, and symmetrical design which make them ideal for small spaces.
Available in Classic or Oceans® design
Works well in any environment.
Capacity: 400 multifold or 240 C-fold towels
Durable, impact-resistant plastic construction
Compact and economical solution for dispensing any brand of C-fold or multifold towel. 
Offers a smooth, one–at–a–time towel presentation of C–fold or multifold towels that enhances efficiency and image.